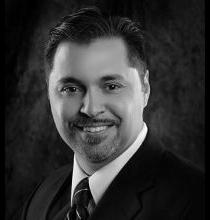 Alexis Saenz is a patent attorney with over a decade of experience. He has prepared hundreds of patent applications and Office Action responses. Alexis has an upfront approach guiding clients early on in what to expect out of the patent process.
His emphasis of practice is with start-up ventures and mid-size companies in the growth stage. Having work experience with a start-up company has provided him with keen insights on the successes and pitfalls growing companies encounter. Alexis is active in start-up communities and local chambers of commerce often lending an ear to those businesses needing a general course of direction. You can find Alexis at events for the Orange County Intellectual Property Association, Corona Innovation Center, Murrieta Innovation Center, Temecula Valley Entrepreneurs Exchange, and Greater Riverside Chambers of Commerce.
A former physics engineer, Alexis Saenz has also worked for the Raytheon Corporation, one of the largest defense firms in the nation.  His technical experience includes working with electro-optics, (including semi-conductor materials, lasers, light sensors, light emitting diodes, etc.) weapons guidance systems, networking switches, and micro-electro-mechanical systems (MEMS). His keen understanding of how things work lends itself to communicating most people's ideas effectively to the USPTO.
In his personal endeavors, Alexis is active in coaching local youth sports teams in baseball and football.
Education
JURIS DOCTOR, Loyola Law School, Los Angeles, May 2004
BACHELOR OF SCIENCE IN PHYSICS, California State University Dominguez Hills, Carson, May 1998
Bar/Court Admissions:
California
US Patent and Trademark Office